Nylon Gibbet G-1
Another amazing simple device for enhancing the difficulty of escape challenges from Max Cita. 2" heavy nylon webbing is sewn into a versatile cage (similar to the ancient metal gibbet) that can be adjusted in size from loose to extra tight. With the 2" d-rings sewn along the sides rope or webbing can be used to immobilize the gibbet or offer locking points for making the escape challenge more difficult or impossible. Lightweight and compact easy to store this device can be used for challenges in the horizontal and vertical. We do not recommend suspension with this model however other models will be available that can be used in suspension.
Strong heavy duty nylon side release buckles are used on the 2" webbing belts. Side loops are adjustable. All belts are sewn to the centre back spine to keep belts together and no more figuring out wnat belt goes where.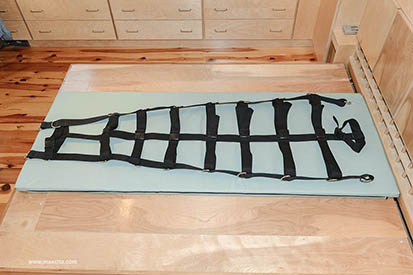 The gibbet with collar on the image right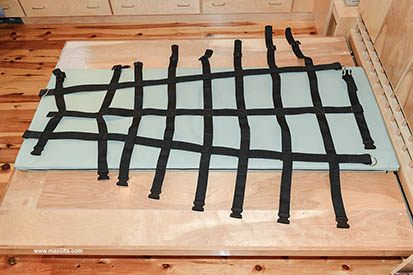 Belts open ready for the challenger
Using a sleepsack to demonstrate how it is used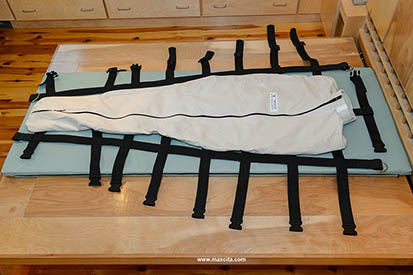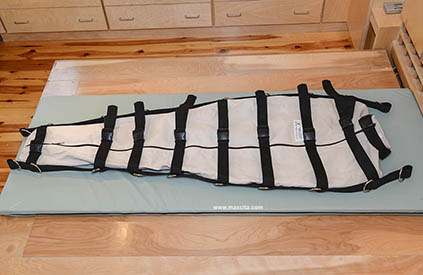 Nylon side release buckles are very strong and will not catch or tear latex as can happen with metal buckles
Adding rope to immobilize the gibbet or belts or webbing even chain
S gives the system a try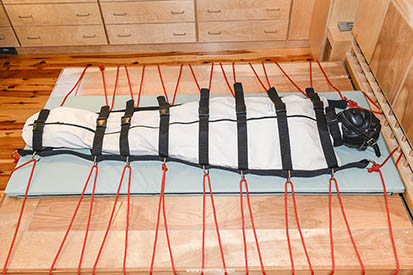 See the size chart below to check your size. Sizes in red indicate maximum and in terms of fitting smaller sizes it can easily fit people 12" smaller in circumferance; generally a medium to the XL sizing used on our measurement charts. We can make bigger and smaller gibbets - write for details.
The Sizing of Gibbet - G1
Check the sizes in red below the gibbet will fit smaller persons up to the size shown.
Measurement Form for Sleepsacks (bodybag)

Ref #

Your Measurement

Size in inches or cm

Ref#

Your Measurement

Size in inches or cm

1

Neck

2

neck to shoulder tip

3

shoulder tip to elbow

4

elbow to wrist

5

wrist to tip of fingers

6

around upper arm (biceps)

7

around elbow

8

around wrist

17

around shoulder tips outer edge

54

18

around both arms at widest point

54

19

around both elbows

54

20

around both wrists

49

21

around both finger tips

42

22

around both knees

30

23

around both calves

33

24

around both ankles

19

25

foot length heel to toe

26

floor to ankle

27

floor to calf at widest part

28

floor to knee

29

floor to finger tips

30

floor to shoulder tip

31

floor to neck at shoulder

64

34

width both feet together

12

32

overall height head to toes

74

35

floor to crotch

33

shoulder tip to underarm

36

floor to navel (belly button)
Pricing Caught-In-The-Act's - Nylon Gibbet G-1 in US$ shipped to the USA and Canada
Overseas write us for costs

| | | | |
| --- | --- | --- | --- |
| Model | Price | Shipping | Total |
| G-1 | $225.00 | 35.00 | $230.00 |
| | | | |